ID3AS in Action: Remington Mulch Company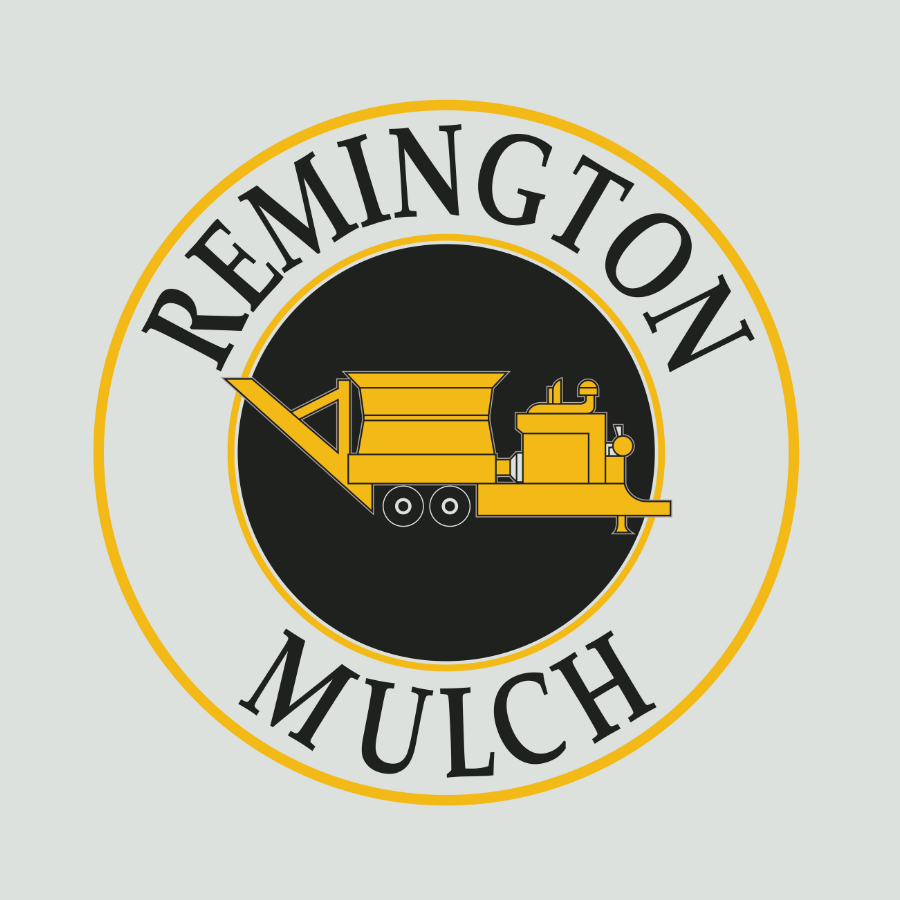 Their Story
Remington Mulch Company in Fairfax, Virginia is the area's leading supplier of bulk and bagged landscaping materials including mulch, compost, soil, and firewood. Serving commercial and retail customers, the company prides itself on its large-scale production efficiency, ensuring everything they offer is of the highest quality. And that's not all—Remington Mulch's customer service efforts do not go unnoticed. They offer pickup and delivery for areas such as Fairfax, Burke, Manassas, Arlington, Alexandria, and Chantilly, Virginia.
With so many people to serve and a wide variety of products to offer, Remington Mulch enlisted the help of D3 for the best ways to showcase their company and serve their customers.
Our Journey
Although Remington Mulch has grown into a landscape superstore since its opening in 1989, the team continues to maintain a small business attitude at each of their five locations. D3 has helped Remington Mulch stay organized from a sales and marketing perspective, meanwhile assisting in creating a user-friendly and prominent presence in the area. This was achieved through several strategies listed below.
Website Development & Online Storefront
The Remington Mulch Company website grabs user attention immediately with a header video displaying the run-through of their processes. Right away, potential customers are able to grasp what the company is about and easily navigate to find what they're searching for. The mulch, soil, compost, and firewood buttons on the site include descriptions of the products, what sets them apart from other companies, and what you can expect through the delivery process.
As D3 set up the online store, user accessibility and ease of the buying process were always top of mind. Customers can choose their product, select the quantity, add to the cart, and choose their payment method. The digital store is easy for the D3 team or Remington Mulch to manage with quick price changes, addition or removal of products, and other updates that may be needed.
Search Engine Optimization (SEO)
One of the primary goals of Remington Mulch was to appear at the top of Google (and other search engine platforms) search results locally and nationally for relevant keywords pertaining to the company. These keywords include the product names and variations of the phrases with additions like "near me" or "delivery". After extensive keyword research to find the best target audiences, and optimization of the website, Remington Mulch now ranks on the first page of search engine results for over 100 keywords locally to the company in Northern Virginia, and nationally. Not only are they ranked on the first page, but over 70 essential keyword searches will show Remington Mulch in the first, second, or third spot on the page. And that's not including their Google search ads above that!

The D3 team creates detailed reports to track the rankings on each keyword compared to Remington's competitors and jumps to fix issues that may appear on the site and affect the search rankings.
Google Ads
Whether it's firewood, mulch, or soil & compost Google search ads, all of Remington's campaigns have a "Top of the Page" rating of almost 90%, greatly exceeding their competitors including Amazon. The company sees a worthwhile return on investment with consistent online purchases of the products popular for that season.
Remington Mulch is involved and passionate about the Google Ads process which provided the D3 team with the ability to capture exactly what they were searching for and fine-tune each ad to produce the best results. In the firewood season alone, from mid-October to mid-February, over 300 online purchases were made from the ads with an additional 200 phone calls and over 20 contact form submissions, and email newsletter sign-ups.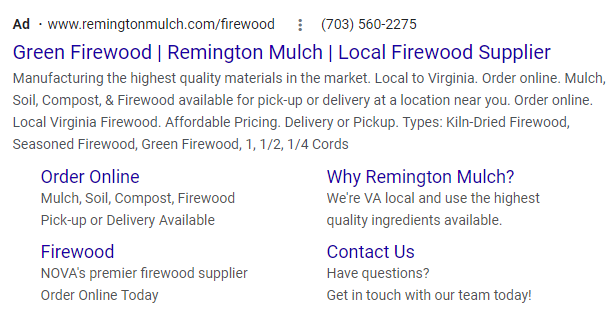 Do you want your website to be at the top of the Google search results page? Contact D3 today!