Founded in February of 1995, D3 has ridden shotgun on the digital journey… and what a ride it has been.
Here is a look back on how D3 got here. To fast-forward to the end and see the D3 philosophy… click here.
A Journey Back Through Time
John Gehrig arrived in Ocean City, MD in a Toyota Camry with cassette player stereo system cranked to 10. On the front seat next to him was his brand new Motorola Startac flip phone and a revolutionary Toshiba Satellite laptop with 11.3 screen at 800x600 resolution with 8MB of RAM and a 3.5" floppy drive. He pulled into a parking spot on 129th St. at the Delray condo building; his life was changed forever. New home, new business, and little did he know that his future wife lived just down the street.
Only a few months before, after an initial business presentation in Ocean City, John sat on the end of the pier at Seacrets, his friends standing around him. John said, "I am gonna make it in this town." His friends just rolled their eyes and chuckled… just another of John's crazy business dreams.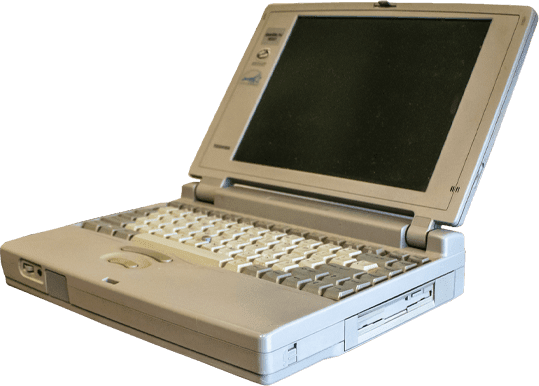 4 years earlier, at his first job at Northwestern Mutual, John had aced the training but when it came to picking up the phone and making the cold calls, he just couldn't press that 7th number (phone numbers were only 7 digits long back then). John, a 6'4" 240lb former college football player, was scared of talking to strangers, it seems.
On the verge of being fired, another manager took John under his wing. This manager, Phil Heffler, changed John's life forever, quickly shifting John's psychology of the art of cold calling. The game was won by either getting the appointment or being hung up on, Phil advised. That one change in perspective propelled John to becoming a cold call machine, an epic "smiler and dialer" with countless stories of hysterical hang-ups.
One of his first calls was to the Ocean City Hotel-Motel-Restaurant Association. Susan Jones answered, listened to John's pitch, and said "yes" to John's request for a meeting. That initial meeting led to a presentation with the full HMRA board. At that board meeting, John made the bold prediction that everyone would have an email address soon. "Yeah right," they said chuckling at this young guy with a mullet hair style. After that board meeting, a board member called John and said he was in, ready to take the leap into the World Wide Web. John was pumped and celebrated with his friends at Seacrets, making his aforementioned bold prediction.
Then the grind began with all of the usual struggles that all start-ups have, especially those in a seasonal market. Pounding the phones day and night, John just worked the numbers. "Every 'no' is one no closer to a yes," he kept telling himself. It always seemed that on the 30th of every month, John would have to walk up and down Coastal Highway trying to sell what he could for whatever price he could just to be able to make the rent payment the next day. The web was so new that most businesses didn't care about it. "I don't need that web thing, but do you print rack cards?
Of course, It didn't help that John completely bombed at an HMRA dinner meeting held at the Bonfire Restaurant. The venue was packed with business owners and let's just be kind and say that John did not leave a positive impression. It looked like D3 was going to have a short life.
The next day, beaten and humbled, John asked Susan for the roster of attendees. He began calling each person individually. Almost all scheduled personal meetings and many became customers. That "disaster" became one of the defining turning points in the history of D3.
Tech Rolls On
Not only did business start off slow… so did Internet speeds. John's 9600 baud modem was soon upgraded to 14,400. When the world updated to 28,800 and then 56k, we felt like we were flying.
AOL was the leading Internet Service Provider (ISP) and the top search engines were Webcrawler, Lycos, Excite, Alta Vista and Infoseek. Yahoo had just started and Google was still 3 years from being born. Netscape Navigator was the web browser of choice and websites could only have 2 or 3 pictures on a page in order for them to load in less than 5 minutes. "Live streaming webcams" loaded a new picture every 60 seconds if you were lucky.
WebTV was the first crack at making our TVs "smart." Internet speeds (or lack thereof) and clunky user interfaces killed it. Netflix started in 1997 but didn't start streaming until 2007.
Social media was non-existent. That changed with the launch of MySpace in 2003, soon to be replaced by Facebook. We know the rest of that story.
Mobile phones were just phones, back then. Flip phones were the rage with people snapping them open and closed like a switchblade. The Palm Pilot PDA (personal digital assistant) became cool in 1997, followed by the Blackberry in 1999, effectively killing the pager many of us wore on our belt clips. The PDA battle raged on until one little invention disrupted the world in 2007... the iPhone. This changed the entire game, with smartphone mobile technology becoming dominant to this day.
So, what is next?
What tech is poised to change the world going forward? There are certainly many candidates. Whether it is artificial intelligence, the metaverse, augmented reality, the Internet of things, wearables, holograms, digital currency, or tech not dreamed of yet, D3 will be there advising its clients on how to use it.
D3 Going Forward
Past, present and future… D3's core values and philosophy always remain the same. Kindness matters. The care for others is imperative. One breakdown impacts the whole team. A breakdown with the team impacts the customers. As John always reminds us, "Take care of yourselves and each other… that is the foundation of taking care of our customers."
D3 has been there through it all, helping businesses navigate through the ever-changing tech landscape, identifying which trends were real and which were flame-outs to avoid. Never quick to rush into chasing the shiny new object, D3 has educated and prepared its clients on how to use the best new technologies to grow their businesses. 28 years later… this is still the beginning.
Growing from 2 people in 1995 to over 40 professionals today, D3 has lived the evolution of tech. One thing hasn't changed, however… the personal touch. D3 has resisted the temptation to replace people with technology. We prefer personal conversations to voice prompts. We use personal chats instead of bots. Virtual meetings have their place, but a good handshake and a smile still matter.
And, yes, the phone is still our friend… and we still smile and dial.
Famous Companies Started in 1995
D3

Amazon

Ebay

Craig's List

Angi

Zip2 – Elon Musk's first company

Realtor.com

Match.com

Marvell Technology