ID3AS in Action: The Original Fisher's Popcorn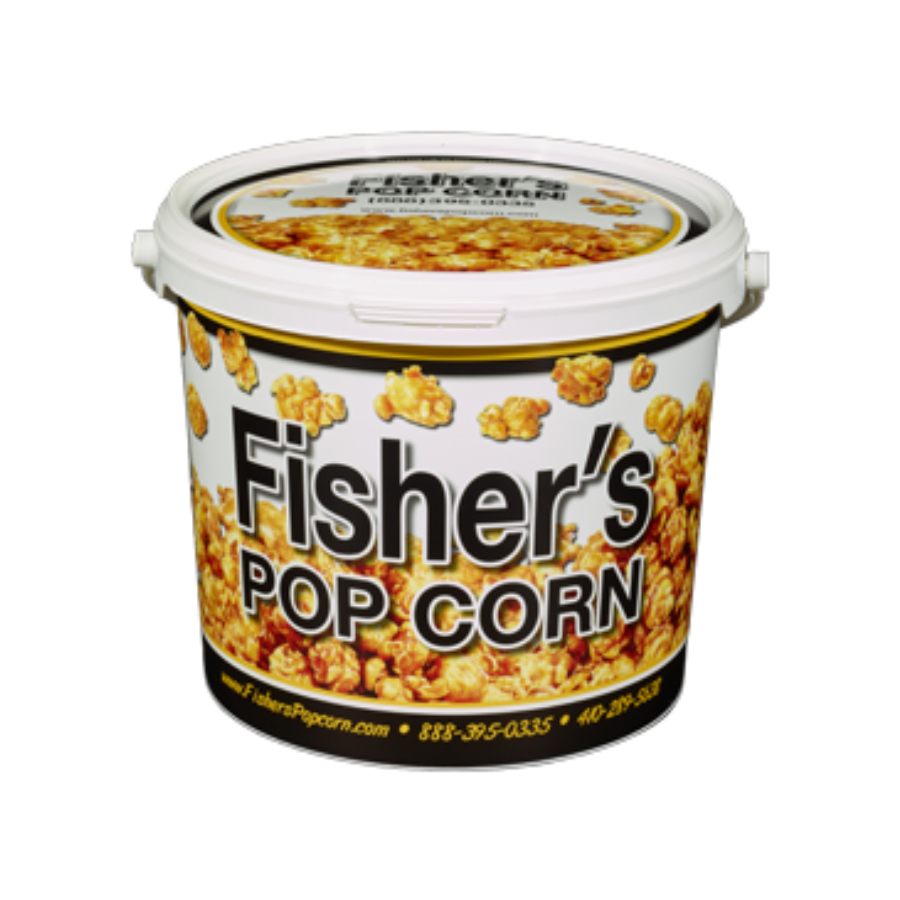 Their Story
The Original Fisher's Popcorn was started by Everett Fisher in 1937 when he mastered the recipe for his world-famous popcorn on the corner of Talbot Street and the Boardwalk in Downtown Ocean City, MD. Since then, the original store has been remodeled, and The Original Fisher's Popcorn is sold in various locations throughout the Eastern Shore. New recipes and delicious flavors like Old Bay©, caramel apple, kettle corn, cheddar, and so many more have become household favorites that have people lining up and down the Boardwalk during Ocean City's busy season.
With such an iconic brand to represent, the family-owned store is dedicated to showcasing all they have to offer to popcorn lovers near and far. As popcorn lovers who call Ocean City, MD, our home, D3 is honored to take the lead in Fisher's digital marketing efforts.
Our Journey
How can you capture the deliciousness of The Original Fisher's Popcorn in marketing? With a strategy focused on customer service and representing Fisher's values of quality! Whether it's managing the website and storefront, setting up online promotions, creating social posts, Google Ad campaigns, or emails being sent out to popcorn fans—D3 does it all.
Website & Online Storefront
The Fisher's Popcorn website is aesthetically pleasing, organized, and user-friendly for customers to shop for their favorite Fisher's flavors. If you're looking for a souvenir treat or the perfect gift to mail a distant relative, the decorative cans and various-sized tubs are always a hit. Although we can't add the delicious smell of roasting popcorn to the website, we can add the mouthwatering imagery of different flavors and fun, throwback pictures of the family that started it all.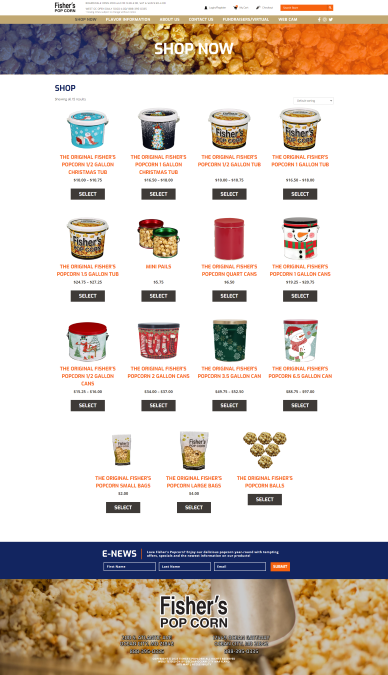 Online Storefront for Fisher's Popcorn
Social Media
The social media team at D3 keeps The Original Fisher's Popcorn's Instagram and Facebook fun and full of popcorn-y jokes for all ages to love. The high-quality imagery comes straight from our in-house photographer or the store itself for authenticity and gives Fisher's fans what they love to see—delicious popcorn and the beach! With over 22 thousand followers on Facebook and 2 thousand followers on Instagram, it's important to stay on top of social engagement with followers and be knowledgeable when answering common questions and comments.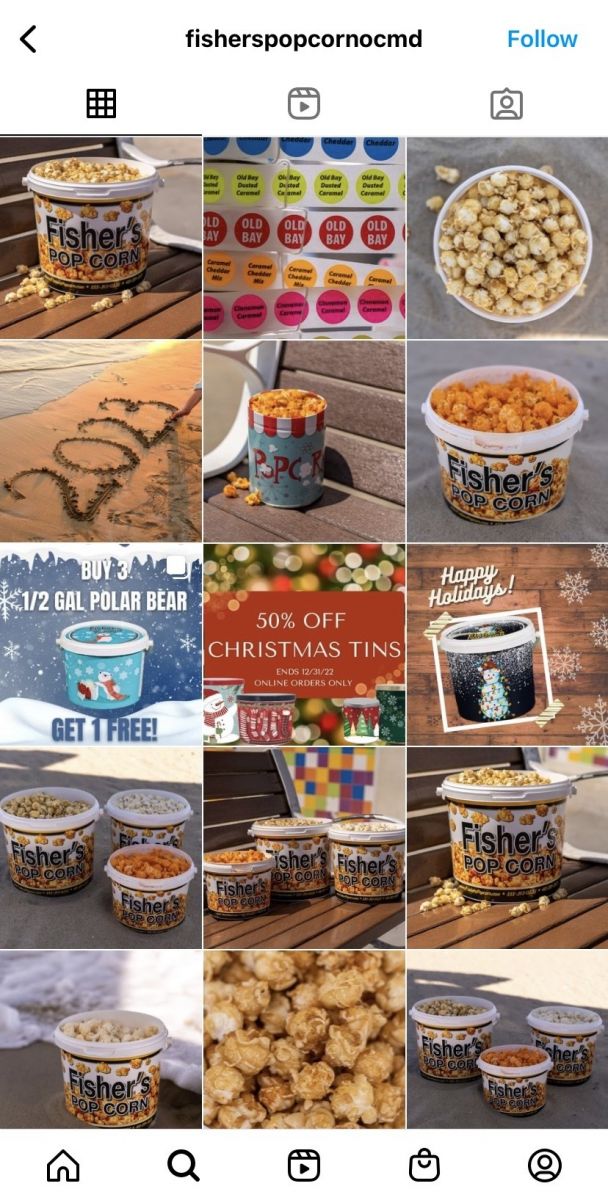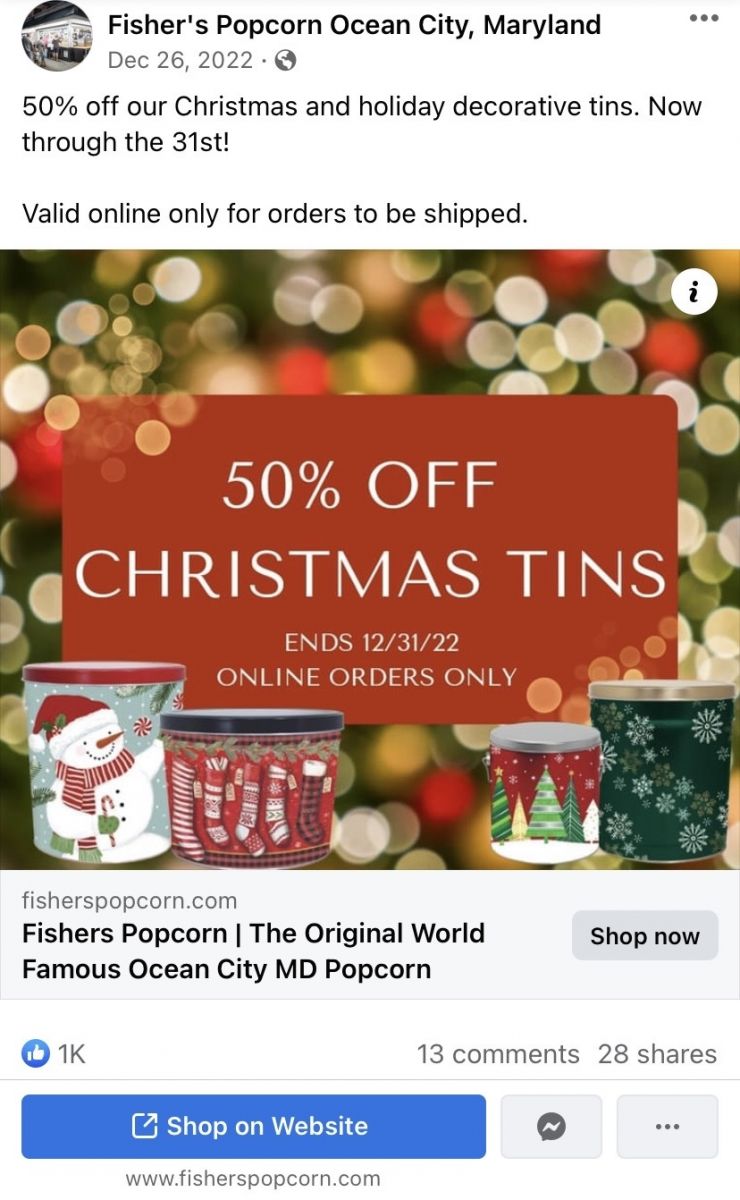 Fisher's Popcorn Instagram Feed & Facebook Post
Email Marketing
Email marketing thrives with many different content strategies but especially promotions! Luckily for us, Fisher's Popcorn loves to offer exclusive online promotions year-round to its popcorn fans. D3's email marketing team is quick to craft creative text and subject lines that will grab the attention in an inbox as well as strategic designs to pair nicely with the promotional theme. These sales are a big hit for customers and we're happy to help Fisher's get the word out.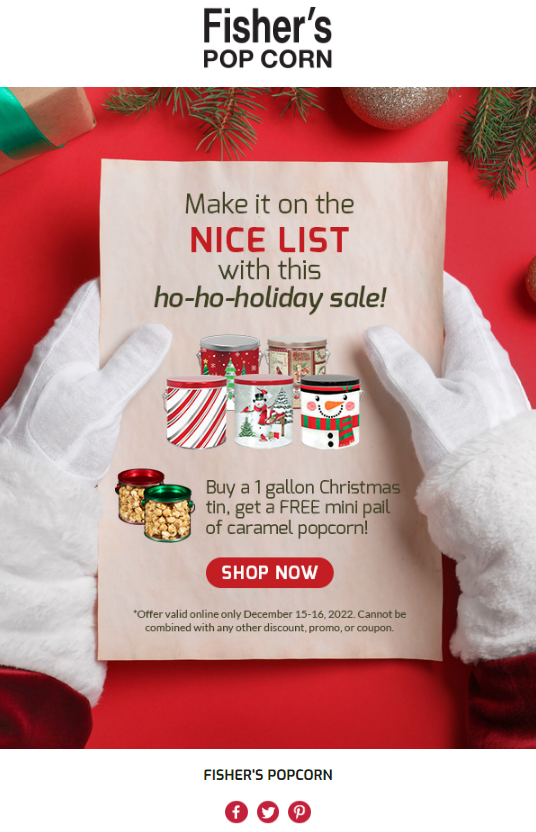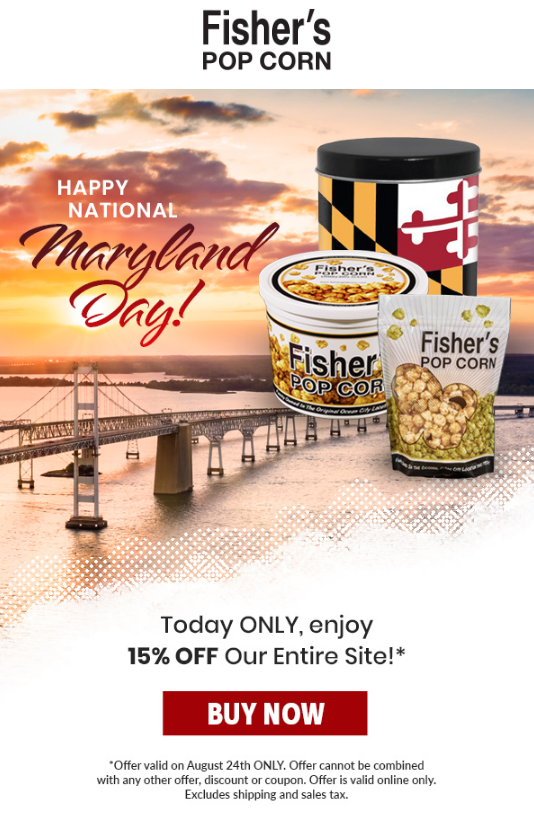 Fisher's Email Templates
Google Ads
Fisher's also takes advantage of Google Ads to target popular markets and fight off the competition. A brand name search campaign helps to keep The Original Fisher's Popcorn website at the top of search results. A consistent display campaign is used year-round and is visible to those visiting the Ocean City, MD area.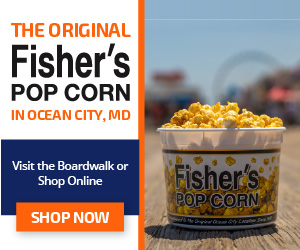 Fisher's Popcorn Display Ad
Here's to many more years of an Ocean City, MD tradition! If you want to advertise like The Original Fisher's Popcorn, see what D3 can do for you.