ID3AS in Action: Ocean Aviation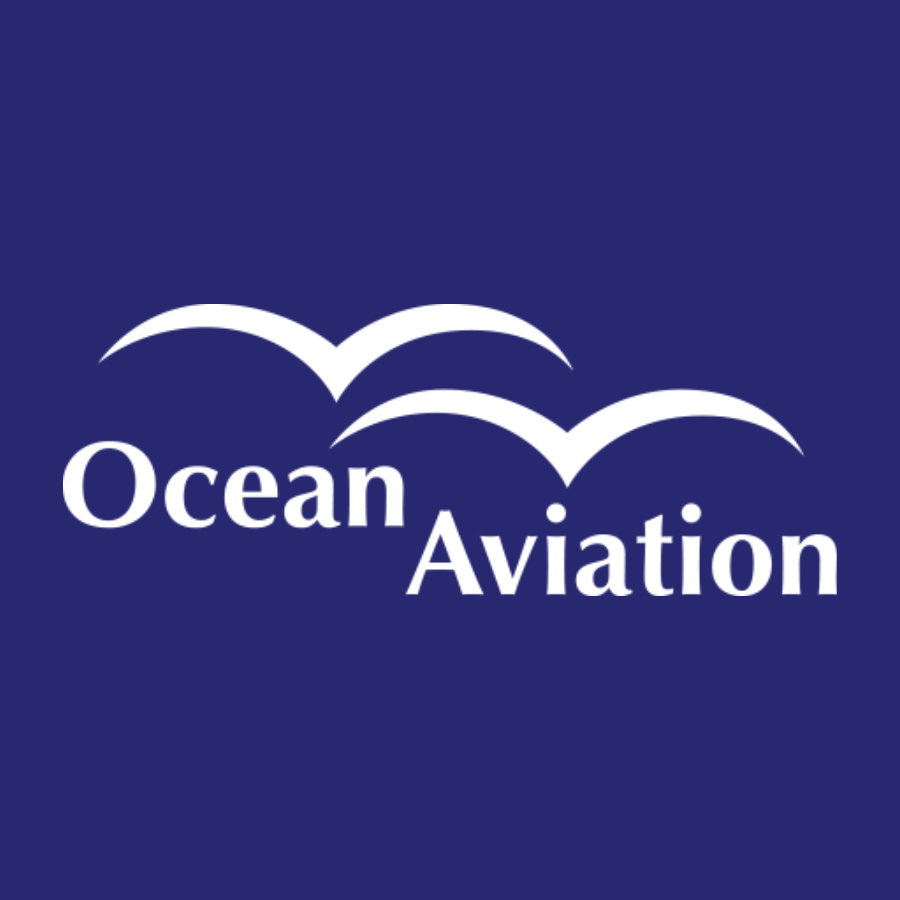 Their Story
Ocean Aviation Flight Academy is the best flight school in Maryland and Delaware. With local students and international students traveling from across the world to train, it's no surprise that Ocean Aviation has opened another flight training academy at Delaware Coastal Airport. The uncrowded airspace on the Eastern Shore makes for the perfect training environment for students of all skill levels. 
Ocean Aviation prides itself on state-of-the-art facilities that are some of the best in the country while still providing personal time and attention to every student. Our advertising and marketing strategies help Ocean Aviation showcase its ability to make goals achievable, and high-flying dreams come true.
Our Journey
PR
D3 and Ocean Aviation have had a long-standing relationship with years of success. From digital ads to PR campaigns and website design, there's been growth and partnership all around. This year, D3 handled the PR to announce Ocean Aviation's recognition as a "Top Hawk" Cessna Pilot Center for 2022 and the opening of the new flight training facility in Delaware. With our professional press release announcing the expansion, Ocean Aviation garnered media coverage from the Cape Gazette Bay to Bay News, Delaware Public Media, WRDE, and more.
"We have been working with D3 for our website design and digital advertising for the past several years. We find that D3 has a dedicated team of professionals who work hard to assure our success."
-    Michael Freed, Ocean Aviation Founder & President 
Google Ads
Ocean Aviation takes advantage of both Google and Social ads. The Google Ads have several different campaigns to target different audiences—for example, search ads to reach people looking for flight schools, academies, and training on the east coast. Ocean Aviation's SEVIS program grants international students the opportunity to travel and learn at the flight academy. To reach this audience, we run a display campaign with information about the program to selected countries, narrowing results to groups who are interested in flight school.
Display ads can go a long way, especially when they are presented to the right person. An additional campaign highlights the dream come true that obtaining a pilot's license is for so many. The image of other students excelling and the brand new 2022 Cessna Skyhawk planes in the training fleet show Ocean Aviation's credibility and dedication to all those looking to fly.

  
Social Ads
The social ads take a similar route with local and non-local audiences to display the success stories of past students. One of Ocean Aviation's goals is to let people know that flying is fun, flight training is friendly, and students are in a no-pressure environment with the best of the best. The new Cessna Skyhawks are a selling point for social ads as well!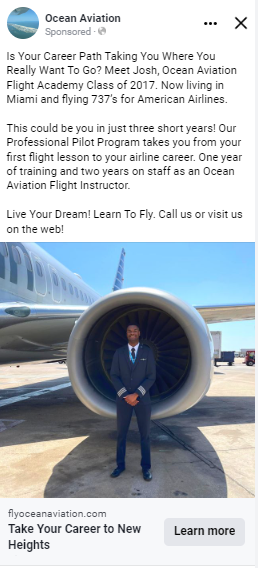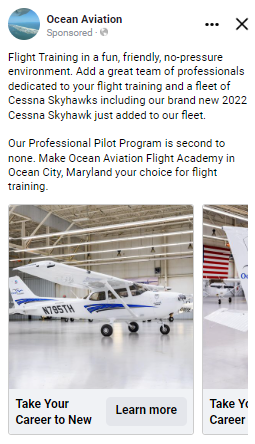 With ad traffic, there has to be a good website to go back to, of course. D3 has worked with Ocean Aviation to design and host their website for years, making improvements and redesigns when content becomes outdated and needs a refresh. The site is well organized, with an abundance of information for students and those interested in the flight school. Check out the different courses, read success stories, learn about career placement, and so much more, all in one place!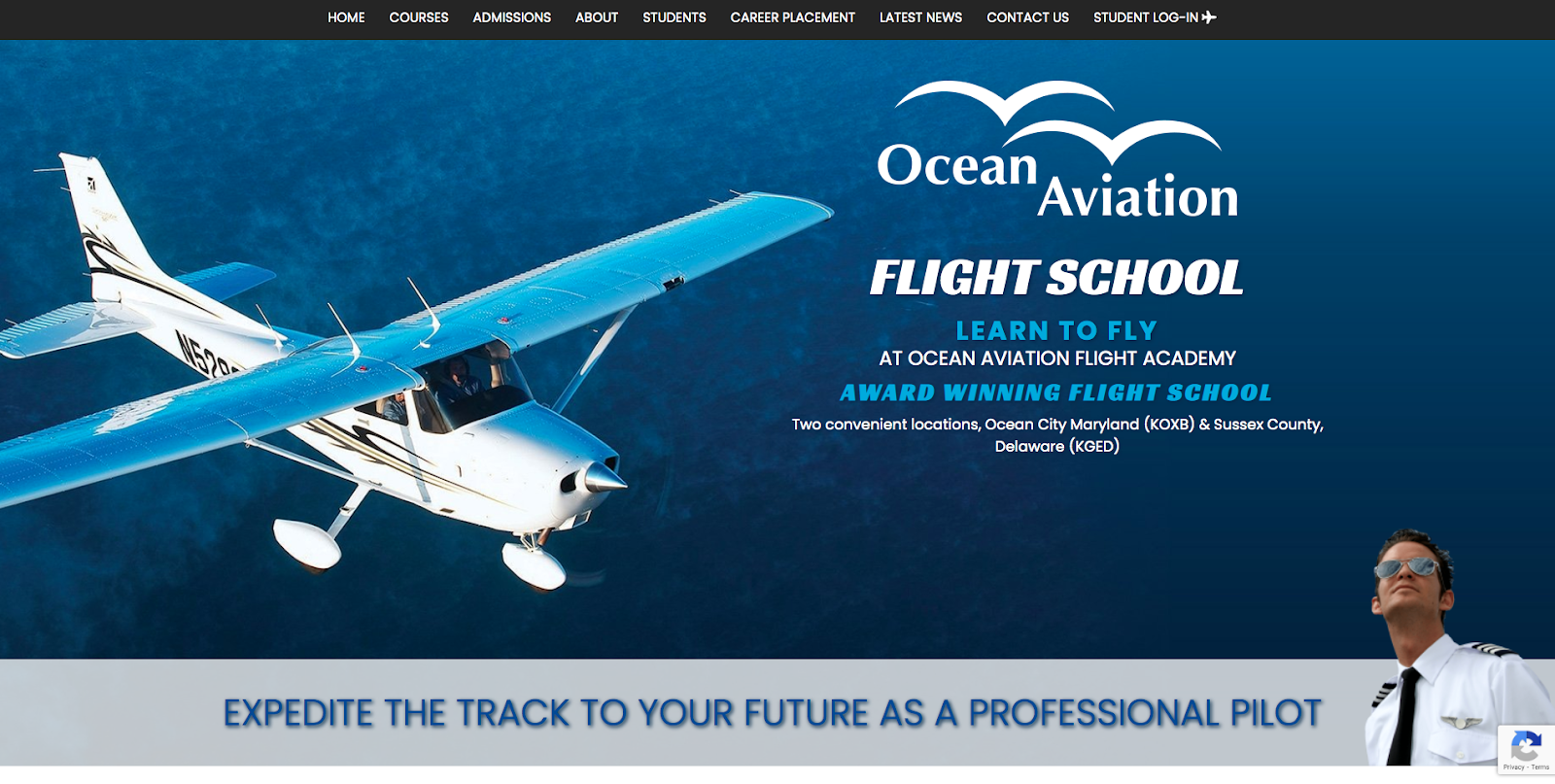 D3 is proud to help Ocean Aviation fly high in all of its marketing endeavors. We can't wait to see where we'll land next!