ID3AS in Action: InFocus Financial Advisors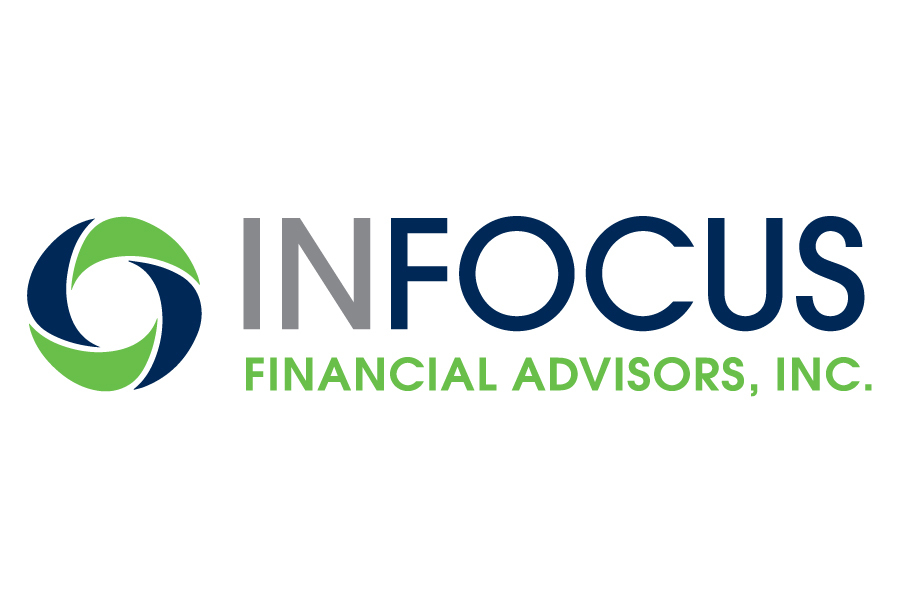 Their Story
InFocus Financial Advisors are the leading Delmarva resource in helping people formulate, successfully navigate, and subsequently achieve their financial plans and goals for their retirement futures. Their team of professionals is committed to their clients and provides an abundance of information and guidance when it comes time to look towards retirement.
Whether you are approaching retirement or already retired, complimentary assessments, webinars, and personalized advising are available to all InFocus clients. With so much wisdom, support, and information to offer, InFocus Financial wanted to reach a wider audience and help benefit the community. D3 was able to work with the InFocus team to find successful ways to achieve this goal.
Our Journey
InFocus Financial Advisors are committed to providing an unparalleled customer experience. Part of this means being able to provide an abundance of information, resources for those retired or approaching retirements, and easy ways to connect with the team. D3 took these goals and built a website to serve as the foundation for all their marketing efforts. The website design includes a regularly updated knowledge center, information on team members and their specialties, as well as access to contact forms, webinar sign-ups, and much more.
"We appreciate everything you all have done for us and are excited to continue this next chapter in working together. It has been an exceptional experience thus far. The hands-on and proactive support has been wonderful."
- Robert Jeter, Vice President & Financial Advisor
The D3 team also contributed to the overall website content. The word choice was optimized for search engines while remaining user-friendly and informative. This did not come as a simple task, because every aspect of the site and content had to meet the federal compliance rules and guidelines for financial advisories—but that didn't deter our team from providing everything they needed!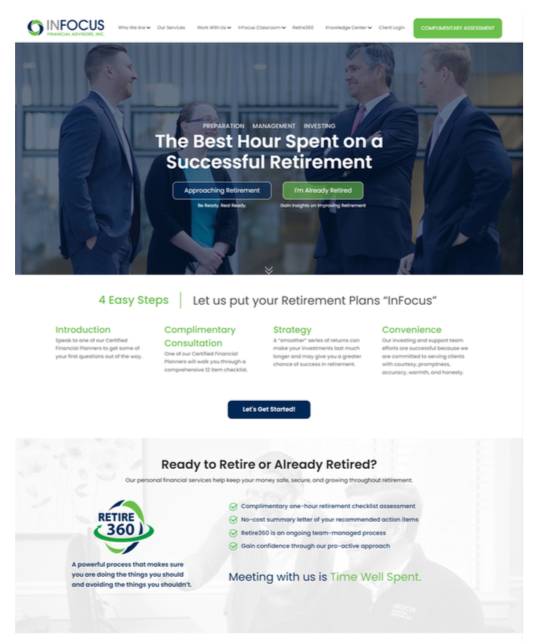 InFocus wanted to find a personable and informative way to introduce themselves to clients and explain who they are as a team. D3 produced a video that captures the essence of the team of professionals who care about you. Watch the "Meet Our Team" video:
As another way to support those retiring, D3 created and manages Google Ad campaigns for InFocus Financial. The strategy consists of two separate display ad campaigns. One is tailored to target a more general audience of those who fit the company's usual demographic and are interested in the services InFocus offers. The other display ad retargets an audience that has expressed interest in the InFocus site or similar competitors' websites. The ads lead to personalized landing pages that make the user's journey simple and easy with all the necessary information and a scheduling tool right there.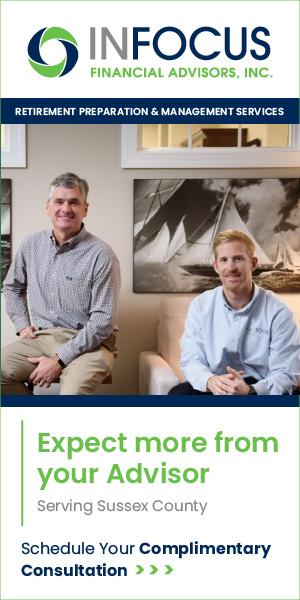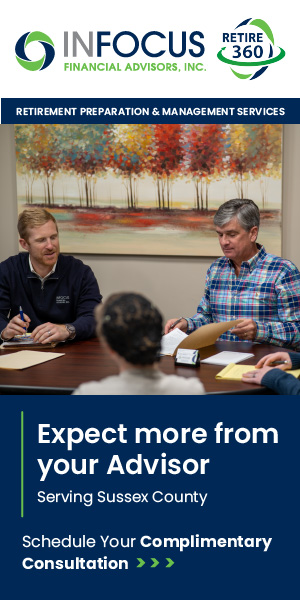 To keep the website content up to date and as beneficial as possible for users, D3 conducts a quarterly quality check to make sure that everything is up to InFocus Financial's standards. This includes site updates, additional search engine optimization, and checks to make sure the site and its content meet current compliance guidelines. The D3 team is committed to helping InFocus Financial Advisors do what they do best: put retirement plans "InFocus"!
See what D3 can do for you!