ID3AS in Action: Macky's Bayside Bar & Grill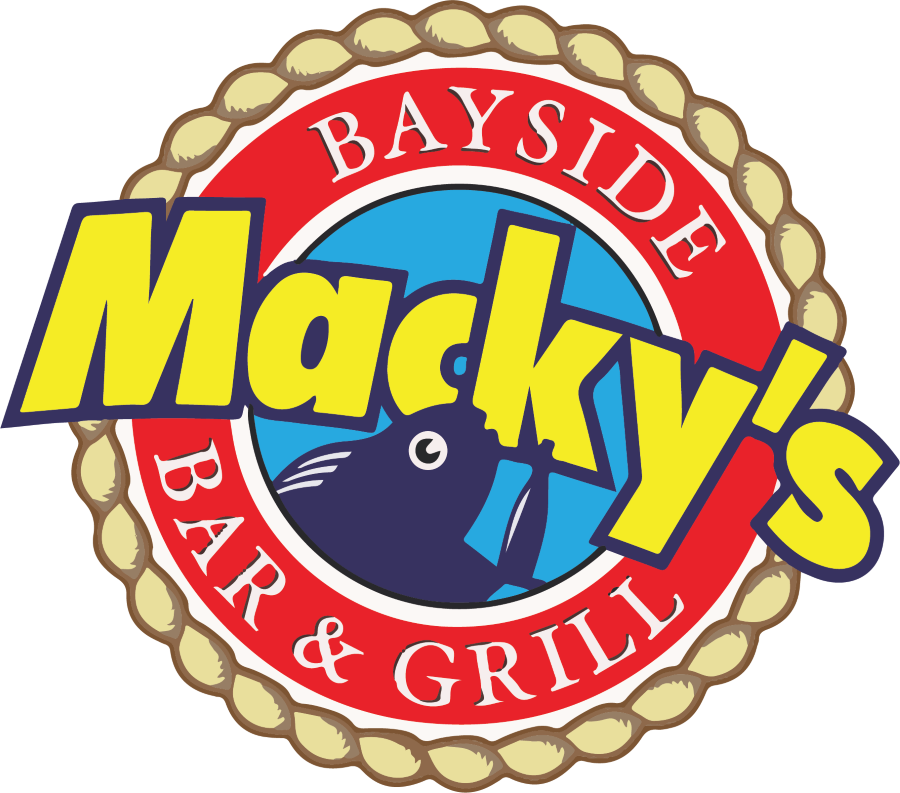 Their Story
Macky's Bayside Bar & Grill is a favorite Ocean City, MD spot for locals and tourists alike. For over 40 years, the waterfront restaurant has embodied "the good life" with delicious menu options, famous drinks, and fun nightlife that keeps its clientele coming back for more. The unique location is also friendly to both pets and families with treats for furry friends and a sandy beach for kids to play on.
While Macky's cultivates a strong reputation of fun for themselves, there's so much more for their customers to discover. Creating a strong digital presence helps keep visitors coming back and gives them all a taste of the good life year-round—even if the restaurant isn't open yet for the season.
Our Journey
At D3, we love living the good life with Macky's close by! We're no strangers to the summer season at the beach, and we know that even with a great restaurant and lots to offer, there are always ways to go above and beyond to reach customers. We help Macky's do just that!
One of the most unique aspects of Macky's marketing is the creation of geofencing ads. Geofencing ads are location-based, and they work by creating a radius around a certain area (in this case, Ocean City, MD) and showing ads to those within the radius. This technique takes advantage of the high-traffic nature of Ocean City by serving ads to those most likely to visit the restaurant—people who are already nearby. This means the ads are more efficient and use less budget, working effectively to find customers in real-time.


Macky's Bayside utilizes D3's in-house reputation management tool and services. This tool allows D3 to manage Macky's business information, like their hours and services, through a single portal and distribute it to various platforms and search engines. Not only does this save time, but it also ensures that customers are not turned away due to inaccurate information across search engines such as Google, Yelp, Yahoo, and many more.
Macky's social media showcases all the fun you can have when you come to their bayside bar and grill. With such a photogenic waterfront spot, we work to provide Macky's social followers with eye-catching imagery that reminds them of summer and engage with commenters and Macky's lovers near and far.
Macky's website is the hub of its digital presence. D3 designed and now maintains the site to make sure Macky's is represented in the best way possible. Keeping the menu, events, happy hour specials, reviews, and photo galleries up to date provides website visitors with informative and relevant content. Adding posts to the blog (The Good Life) monthly is another way to make sure content stays up to date and helps Macky's rank for keywords that potential customers are searching for.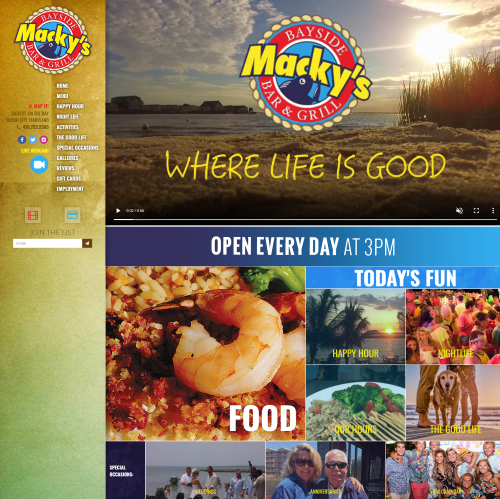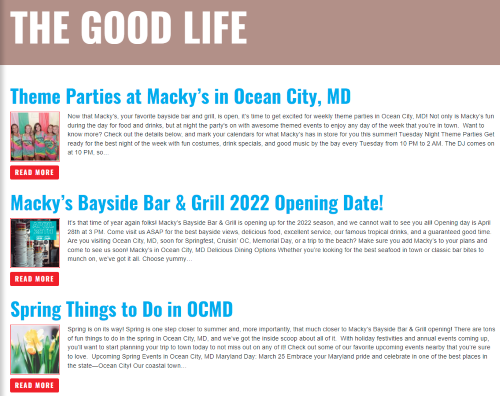 Want to reach your audience in the best way possible? D3 is here to help!