Case Study: Holman Aviation
The Story
What started as an exterior renovation project for Holman Aviation evolved into the revitalization of the company's online presence and a new partnership spanning two time zones between the Montana based business and D3.
Holman Aviation has served the Great Falls area for 70+ years, as a fixed base operator (FBO) located between the US Customs Port of Entry and the Great Falls International Airport Terminal. The enterprise provides aviation services such as fueling, deicing, ground handling, heated hangar space and aircraft maintenance. Holman serves commercial, airline, charter, corporate, private and military aviation. The company prides itself on superior customer service, attention to detail and the highest level of safety and care.
"We are always available to greet each incoming aircraft and will assist clients with any services they require 24 hours a day, 7 days a week."
"We realized that just like the bricks and mortar of our physical location, our website was outdated, going on 15 years since it was first built," said Jamie Ronholdt, vice president of customer service, Holman Aviation. We knew the digital world was evolving and we were behind. It was time for a refresh."
Our Journey
After a referral from Chantilly Air, Holman Aviation interviewed D3 to find out how the agency compared to other web companies they were talking to. After discovering D3 had been a web solution pioneer for over 25 years and learning about the measurable, actionable and results-driven goals the agency sets as expectations for each site they build, Holman Aviation hired D3 for the job.
"I had a feeling from the very beginning that this was going to be a great partnership. The Holman team took every opportunity to be a part of the process. Having a better understanding of what their goals were with the site was imperative to its success. In our very first meeting we ask our clients to identify their pain points and challenges which sets the course for the design, layout and functionality of their new website."
Jay Bosley, Chief Operating Officer, D3
One of those pain points was the inability to connect visitors with the appropriate departments within the company for specific services.
"Our mechanics inbox was full of emails that needed to be rerouted to other departments," said Ronholdt. "We just didn't have a way to segment the incoming messages to the right teams and we knew it was impacting the level of customer service we could provide to the aviation community."
The solution - a custom website form for visitors to fill out with their contact information, comments and the specific department they wanted to connect with.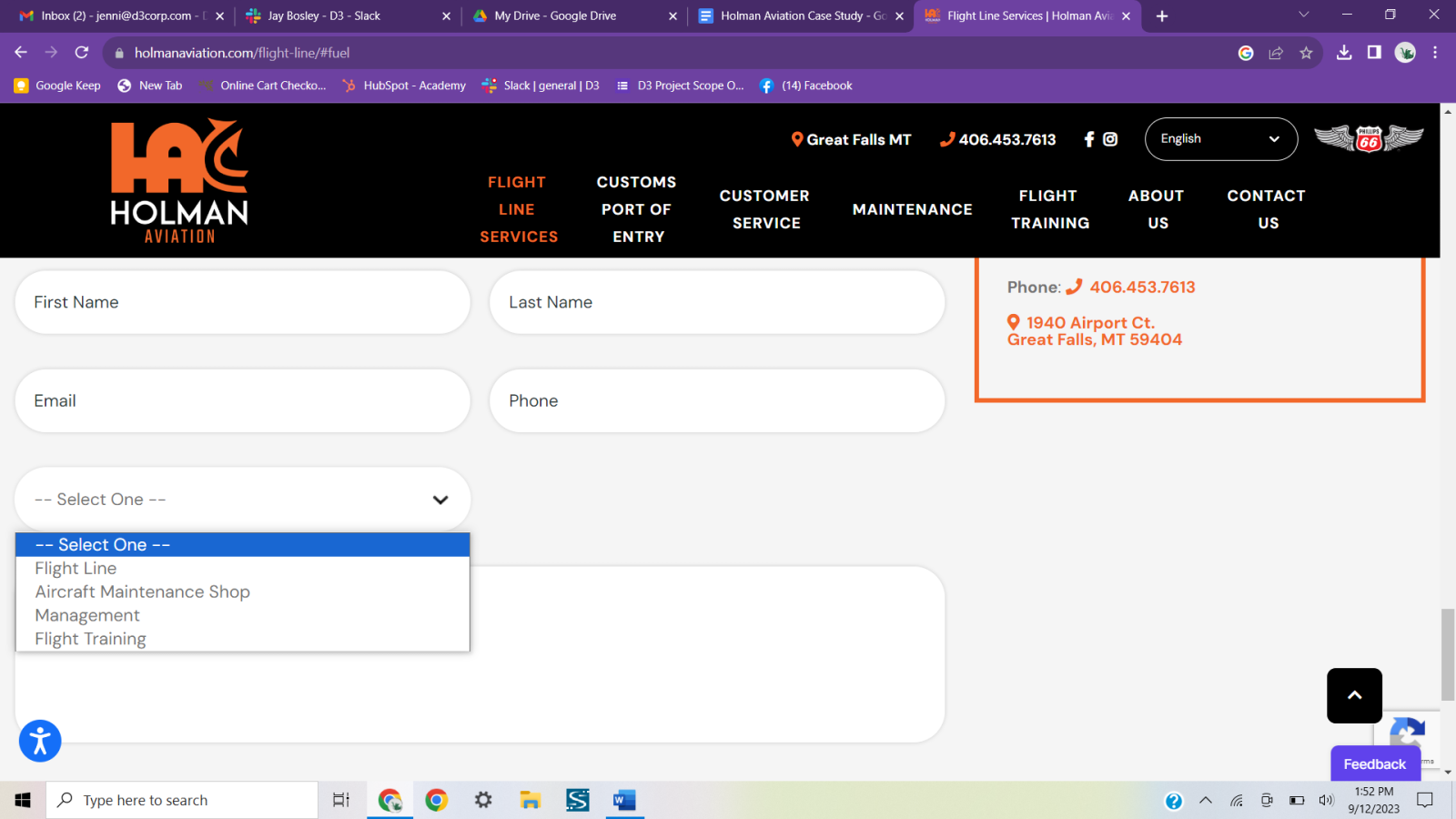 The client also recognized the content on their site needed attention. In order for their site to be found and rank high on search engines, search engine optimization (SEO) needed to be at the core of their content strategy. The D3 team interviewed Holman staff for relevant information customers would be searching for online. This meant elaborating on each individual service provided from flight line services and customs port of entry to aircraft maintenance and flight training.
"Working with D3 was an amazing experience. They demonstrated superior teamwork which made for a smooth process and helped keep the project on track. I love the layout and design of the new website. It is organized just the way we envisioned it!"
Jamie Ronholdt, Vice President of Customer Service, Holman Aviation